Before you begin shopping for the home of your dreams, it's a good idea to be financially prepared. Getting pre-approved for a mortgage can save you time and ensure your offer is taken seriously when you finally find the right house.
A pre-approval can also lock you into a mortgage rate, which means you won't pay more if rates go up before the loan closes and usually if rates drop, you can still get the lower rate. Here's what you should know about the pre-approval process and why it's so important.
What is a Pre-Approval?
During the pre-approval process, a lender will analyze your finances and credit to determine how much you can afford to borrow. The lender will then provide a written pre-approval certificate or letter that is good for a specific amount of time.
Although it is not guaranteed you will be approved for a mortgage, it is a commitment to loan you the funds. Your letter, usually valid between 90 - 120 days, will have a specific interest rate and a pre-approved mortgage amount that will give you a good estimate of what you will be able to borrow.
Is There a Down Side?
There are a few cautionary points to keep in mind when considering a pre-approval:
Appraisals are mandatory for getting a mortgage but they aren't done at the pre-approval stage. If the lender's appraisal of the home you are buying reveals that you paid too much, it can nullify your pre-approval. You should have the appraisal done before you submit an offer.

Credit changes can affect everything. Co-signing a loan, taking on additional debt, alternating your down payment and changing jobs can all render your pre-approval useless. So don't go shopping for a new car at this point!

Getting pre-approved may mean higher rates. Because the lender also has costs such as application processing and rate hedging, pre-approvals can be 0.10 to 0.15 points above regular market rates.

Pre-approvals tend to lean towards the high end of what you're qualified to borrow. This doesn't mean you should look for a house at the exact pre-approved price.

They can hurt your credit score. While getting one approval won't hurt, shopping around for different approvals can affect your credit as it shows as separate inquiries to your account.
What Do You Need to Get Pre-Approved?
The process of getting pre-approved is similar to the actual home loan process as you will provide many of the same documents. To get pre-approved, you will need to meet with a lender and provide the following information:
Personal information such as photo identification

Information about your employment, including salary confirmation and length of employment

Records of employment like T-4 slips or income tax returns

Details about liabilities like debts and loans

Proof of financial assets, including bank statements

Amount and source of deposit and down payment

Proof and source of funds for closing costs
During the pre-approval process, a mortgage specialist will discuss what you can afford based on your financial situation. Your financial, credit and employment information will be verified by the lender.
Pre-Approval vs. Pre-Qualification
There are several stages of getting approved for a mortgage in Canada. The first step is pre-qualification, which means the lender or mortgage broker will look at your debt ratios to determine how much you can afford to borrow. The pre-qualification process is only about estimating your borrowing power. This process usually involves providing basic information about our debts, assets, and income to the lender. It's very rare for any information to be verified during pre-qualification. Think of it as a way to begin estimating what you can afford. A pre-qualification is not a commitment to provide you with a mortgage.
Pre-approval, on the other hand, requires a more detailed analysis of your creditworthiness, including verification of your income, debts, assets, employment, and credit score to issue you a written commitment for a loan.
A pre-approval will lock you into a mortgage rate, but a pre-qualification will not.
When Should You Get Pre-Approved?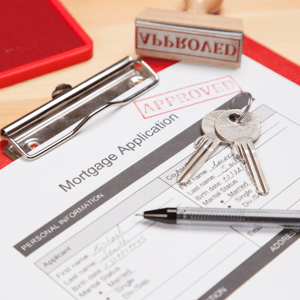 It's important to get pre-approved for a loan before you start looking for a new home. The pre-approval process will give you realistic expectations from the beginning as to what you can afford and what a bank is willing to lend you. When you do find a home, a pre-approval letter also means your offer will be taken seriously. In fact, buyers who are not pre-approved are often not even considered!
How Much Can I Borrow?
To determine how much you can afford to borrow to buy a home, your lender will consider these three primary factors: your credit score, your down payment, and your debt service ratio (both Gross and Total).
Credit Score
Your credit score can range from 300 to 900. A score between 680 and 900 is ideal to get approved with the best possible interest rate. If your credit score is between 600 to 680, you have average credit. Depending on other factors, you may or may not qualify for a prime mortgage with a low-interest rate.
Your credit score demonstrates your willingness to pay your debts. You can improve your chances of getting approved for a mortgage by paying your bills on time and working to lower your debt balances. Keep your balances low compared to your credit limits; make it a goal to have no account balance higher than 50% of your credit limit.
Down Payment
You need a down payment of at least 5% to buy a home in Edmonton. The bigger your down payment, the lower your mortgage payment will be. This means you can get approved for a higher loan amount or keep your payment within your budget. While you don't need to put down more than 5% on a home purchase less than $500,000, you will need to pay CMHC or mortgage default insurance if you put down less than 20% (unless you're a first-time home buyer, but that is a completely separate topic).
Debt Service Ratios
Your existing debts are taken into account to determine how much of a mortgage you can afford. A lender will consider your Gross Debt Service Ratio (GDS) and your Total Debt Service Ratio (TDS) to approve you for a mortgage. Your GDS is the percentage of your income necessary to pay monthly housing costs, such as your property taxes and mortgage. Your GDS should be lower than 32% to qualify. To determine your GDS, the lender will add your monthly housing costs, divide it by your gross income then multiply by 100.
Your TDS considers all monthly debts, including loan payments, credit card payments, car payments, and alimony, just to name a few. To qualify for a mortgage, your TDS ratio should be less than 40%.
If you are planning on buying a home within the next six months, it may be worth your while get pre-approved. Take the time to get pre-approved with the lender of your choice to get a good understanding of what you can borrow, which is taking the first step toward applying for a loan.
The last thing you want is to fall in love with a home only to find out you'll be approved for less or worse; you won't be able to obtain financing and the deal will fall through.