Builders often offer a variety of floor plans, and when you're thinking about buying a new home, it's hard to decide which one might be the best fit for you.
After all, some of the differences can be subtle, like the size of the dining room or the placement of the toilet in the master ensuite. The key to finding the floor plan that best fits your family is to think carefully about how your family lives and what you really need.
Our tips can help you get started.
Choose a Basic Home Type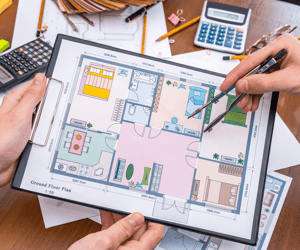 Many families building a new home have the choice of which home type will work best for their family. You have the option to go with a single family home - however, you still need to think about whether you want an attached garage or a detached garage. Don't forget about a duplex or townhome that also offers a variety of floor plans.
Decide How Many Bedrooms You Need
Looking at the number of bedrooms you need is often a good way to narrow down the floor plan choices. Think about whether you want the kids to have their own rooms or whether you want them to share a room. Will you need an extra bedroom for guests?
Remember some custom floor plans might show only two- or three-bedrooms - but still have options for adding extra rooms. In particular, most companies can add one or two bedrooms if you choose to finish the basement, and some floor plans include a second-floor loft space that could be converted.
This kind of flexibility is a huge reason why building a new home is worth waiting for.
Look at Homes Before You Decide How Much Square Footage You Need
People often overestimate how big they want their home to be. A 1,400 square foot home can sound small, but if it's well-planned, it might feel more spacious than you thought it would. A 2,500 square foot home might sound right, but when you actually see it, you'll realize there are a lot of rooms you might not use.
By touring showhomes, you can get a better sense of which size might work for you.
Think About the Flow of Daily Life
Most importantly, you need to think about what you want your daily life to look like.
For instance, if you'll often be bringing the kids home from sports practice with big bags full of equipment, you probably want a large mudroom. A family with a single child might not need the extra space.
If your kids prefer to do homework in their rooms, you'll want rooms that can easily accommodate desks. If your kids prefer to do their homework in the kitchen, though, you might want to choose a floor plan with an eating bar at the island or one with a nearby dining nook.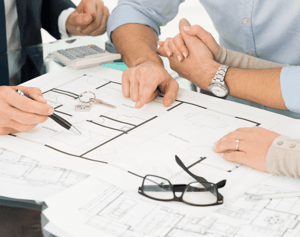 These little details vary from family to family, so make a list of what's important to you. Knowing your needs versus just wants is also a good practice to help you spend wisely when building your new home.
Consider Your Storage Needs
Do you have a lot of stuff?
Think about where it will go when you look at floor plans.
Minimalists might appreciate clean lines and not need a lot of extra storage space. Large families, on the other hand, might want extra storage space: a walk-in pantry, built-in shelving, and extra closets throughout the home.
When you plan for storage, you'll have an easier time keeping your home neat and tidy.
Look for a Family Gathering Space
Think about where – and how – your family will gather together.
If you want to host family gatherings over the holidays, you probably want a floor plan that has a separate dining room and space to hold all of your guests.
Open-concept floor plans are especially popular these days because they allow the family to feel connected even when they're doing separate things. Many families also appreciate having two hang-out spaces.
For instance, the great room downstairs might be more formal. You'd use it for nighttime reading or watching a movie. Upstairs, there could be a more casual room that holds all the kids' toys and a TV for family movie night.
Plan a Home That Works for the Future
When you're investing in a home, you want it to last, so think about how your needs might change over the next 10 years or so.
A young couple with their first child might go on to have a few more, so they should consider purchasing a larger home. A couple with teenagers may not want to purchase a large family home because those children are likely to be moving on soon.
Planning for these types of scenarios ensures you'll be happy with your home for years to come.
As you enter the homebuying process, it's important to make your decisions after much consideration. Choosing a great Edmonton home builder means a good Area Manager can help you find floor plans that meet your needs. But you have to start with a solid understanding of what those needs are.