Can you feel it, too? It's the excitement of summer approaching! It's so close, you can hear the sounds of children splashing, bonfires crackling, and families laughing. We just can't wait to celebrate – check out our opening events to kick start your summer fun!
Summer Carnival – SummerWood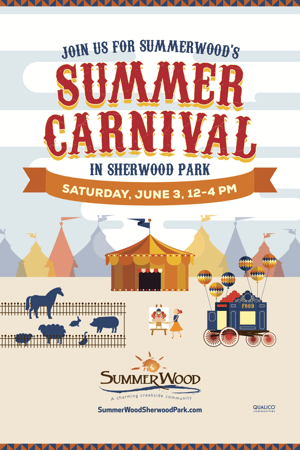 It's in an ideal natural setting, in close proximity to useful amenities, it's family-friendly – it's the charming SummerWood! This scenic creekside community in Sherwood Park offers features from playgrounds to paved walking trails and quick access to your day-to-day necessities. But on Saturday, June 3rd, from 12:00 - 4:00 PM, we're putting extra "fun" into that functionality with a carnival!
Join us in Sherwood Park to wander through SummerWood and tour our show homes on Supine Pointe and Sumac Lane. Get your thrills from our Summer Carnival activities along the way – make a new friend at the petting zoo, sample sweet and savory treats from our food truck, and take home a caricature portrait as a souvenir. And don't forget to enter for your chance to win four tickets to Cirque du Soleil's Kurios!
Attend this event for the entertainment, and to experience the always-sunny feeling of SummerWood. This could be the community your family has been looking for!
Here Comes the Sun! – Langdale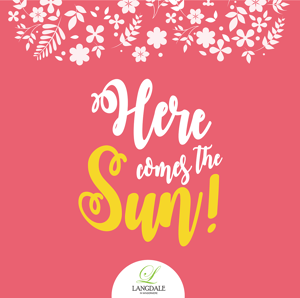 As The Beatles say, "little darling, it feels like years since it's been here," but, thankfully, the sun has made its glorious return (we're ignoring the rain from last week)! In hopes of seeing more smiles returning to faces, we're hosting a celebratory event – Here Comes the Sun! The event will take place in the Langdale community, in Windermere.
Langdale is picturesque – filled with delightful sights like parks with cobblestone plazas, an urban forest, and a community lake. The old-English design of this planned community creates a homey feeling, while still being only a short distance from city amenities.
On Saturday, June 3rd, from 12:00 - 4:00 PM, this community will be alive with festivities! In between taking in community features and the quality craftsmanship of our show homes, kids can take joy in pony rides, and everyone can get their fill of food truck specialties and ice cream. All that and more make this event one the whole family can enjoy!
If you're ready for lots of fun under the sun, join us at either of these wonderful events. Your kids will never forget the day they rode a pony, and mum and dad found the perfect home for the family.