Among the many benefits of owning a home, being able to rent out your basement or an entire investment property to tenants does have some appeal. However, before deciding to take on the responsibility of an income property, it's important to know what it really means to be a landlord. You'll want to make sure you have the money, patience, and lifestyle that will ensure your rental experience is a good one.
To help you out, we've outlined some of the pros and cons of being a landlord. Take a peek below to see if owning a rental property is the right choice for you.
Pro: Additional Source of Income
Let's start with the most obvious perk - you'll receive an additional source of income. Who wouldn't like that?! If your rental property is in good condition and you keep up with minor annual maintenance, chances are you'll be able to pocket most of that rental income. This means more money for you every month with very little work required.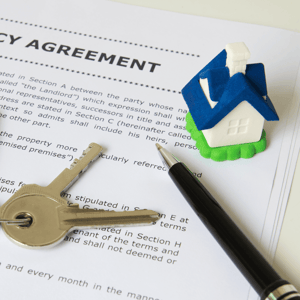 Con: Finding Tenants and Dealing with Unruly Ones
You need to screen prospective tenants to find a reliable renter(s). You're starting an ongoing relationship with these people, and you have to trust they will respect your property. This may mean seeing several potential tenants, showing your rental property several times and following up on references. This can be time-consuming.
If you discover you've made the wrong choice, you could be in for a challenging time and a whole gamut of issues. This can lead to ongoing stress, frustration and potential legal proceedings and their associated costs. This could be further compounded if you're renting a basement suite within your own home.
That being said, even if you find the perfect tenant, it's best to understand the Alberta Residential Tenancies Act, which legislates the relationship between a tenant and their landlord.
Pro: Tax Incentives
As a landlord, you'll be able to claim many of the expenses associated with your rental property as a tax write-off. This includes your property taxes and home insurance, maintenance and repairs, advertising costs and accounting fees. These tax deductions at the very least will help with your bottom line and leave you with more money.
Con: Taxes and Insurance
Despite tax incentives, you'll see increases in income tax (you're bringing in a second income) and home insurance rates. Also, when you sell the property, you'll have to report the capital gain if you sell it more than you purchased it for. You'll then be taxed on the capital gains from the selling of the property.
Pro: Not Having To Sell Your Home
If you have the financial means, renting your home is a great option. This will save you the stress and cost of putting your home up for sale, having to leave every time someone wants to come see your home and negotiating with potential buyers on the selling price.
If you're not able to sell your home right away, whether it's because buyers aren't interested or you'd like to wait for a competitive selling price, you can always rent your home. But keep in mind that should you choose this option, it will be difficult to sell the property once a tenant has moved in.
Con: Emergencies
Just like your own home, your rental property may from time to time experience a problem that requires immediate attention. Whether it's because the furnace stops working in January or a water pipe is broken, it will be up to you to fix it. It doesn't matter if you're on vacation or it's three o'clock in the morning, you'll need to be prepared for this possibility.
Pro: Establish Financial Security
Having a second income from a rental property or suite will also help you fast track your path to financial security. As you most likely already have a job, consider taking the income from your tenant and placing it in an RRSP or other long-term savings plan. This will ensure you're ready for when you want to retire.
Alternatively, you could place this income into a rainy-day fund for a trip you've wanted to take, or as an emergency fund.
Con: Costly Investment
Maintaining more than one property can be a costly venture and could place you in significant financial strain if you haven't set aside enough money for the additional expenses. To gauge how much capital, you'll need to keep both properties, be sure to consider everything:
Property taxes & home insurance on two properties

Taxes on rental income

Mortgage payments

Repair and maintenance costs

Marketing costs (you have to find a tenant somehow)
Whether you take on the role of a landlord will ultimately depend on your financial situation and your lifestyle. Before you make a decision, take a realistic look at your current situation and whether it is something you'll be able to sustain for a long period of time. For more information, check out the Laws for Landlords And Tenants in Alberta.