The temperatures are rising, the snow is melting, and it won't be long before we start seeing blooms in our backyards and buds on our trees. Spring is such an amazing time of year in Edmonton region, and we're excited to be able to kick off the warm weather with Showhome Grand Openings in three of our communities!
We'll start in the beautiful community of Crimson in Creekwood Chappelle, then we'll check in on SummerWood in Sherwood Park, and finally we'll make our way west to SouthCreek in Stony Plain.
Let's get going!
Crimson in Creekwood Chappelle in South Edmonton
The Community
Just north of 41 Ave, Crimson in Creekwood Chappelle lets residents bask in the serenity of its warm neighbourly spirit, peaceful community streets, and gorgeous vistas. Crimson has created a unique energy that's hard to find in other Edmonton communities. At the upcoming Showhome Grand Opening, you'll have a chance to experience that feeling for yourself!
The Event – Cinco De Mayo
Come celebrate Cinco De Mayo with us on May 5 from 12-4 PM, as we unveil three beautiful new Showhomes. We'll be launching the "Vienna", by Pacesetter Homes; the "Harmony A", by Sterling Homes; and the "Sunridge", by Prominent Homes.
Of course, that's not the only reason to come for a visit. We'll have tasty tacos available from the Calle Mexico food truck, a petting zoo where you can get up close to some adorable animals, and a station where you can build your own potted cactus!
You can also enter for a chance to win one of three $100 gift cards from Calle Mexico restaurant. What a great way to kick off spring!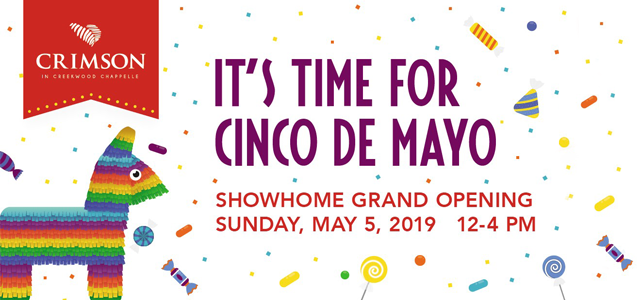 SummerWood in Sherwood Park
The Community
It's easy to picture yourself in SummerWood! This charming creekside community is tucked away in the ideal setting, surrounded by nature but easily accessible by major arteries and highways. It's the best of both worlds!
SummerWood has plenty of parks, walkways, and playgrounds to help you and your family enjoy the community and the picturesque surroundings.
The Event – Mother's Day
We'll be celebrating Mothers for this May 11 event where we'll launch six new Showhomes to the SummerWood Community. We'll be presenting four Single Family Homes by Jayman BUILT and Pacesetter Homes, Single Family Home with Rear Lane Home by Pacesetter Homes, and a Duplex by Rohit Communities. Each of these beautiful home styles will bring new homeowners to the community and add more visual interest to the streetscape. We're sure you'll love them, too!
Over the course of the afternoon, from 12-4 PM, we'll be pouring mimosas while we cook up gourmet waffles with an assortment of delicious toppings. There will be a rainbow of tulips for all the mothers who come to the event, and a craft station where kids can make a necklace or bracelet as a gift for mom.
You'll also have the chance to win one of two $250 gift cards to treat yourself to a spa day.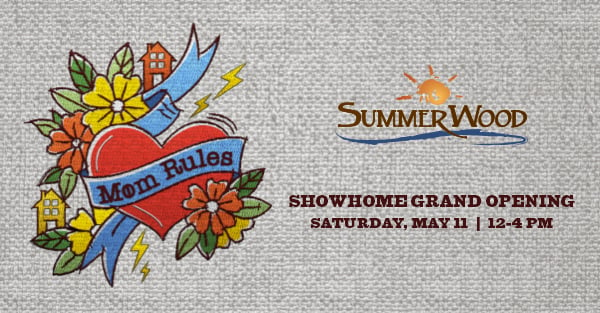 SouthCreek in Stony Plain
The Community
Neighbouring the Stony Plain golf course on the north, SouthCreek surrounds residents with the sounds, sights, and smells of nature. There's loads of greenspace to enjoy in this burgeoning community, and plenty of beautiful homes to choose from.
The Event – Ready, Set, Spring!
In SouthCreek, we'll be celebrating the Grand Opening of two brand new Showhomes on May 11 from 12-4 PM! The first is called the "Riley", and is built by Pacesetter Homes. The second, the "Rian A", is from Alquinn Homes. Both are stunning and definitely worth seeing.
For this Spring themed event, you'll have the chance to grab a burger and fries from the on-site food truck, visit with the animals at a petting zoo, and create your very own potted plant!
If all those treats weren't reason enough to come out, you'll also be able to enter your name for a chance to win $150 gift card to Jack's Burger Shack.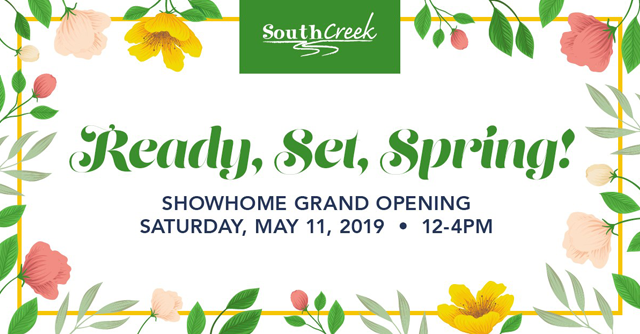 Come to one event, or come to all three! These new Showhomes are incredible and we're excited to share them with you as we introduce them to each of these communities.
Now get outside and enjoy the warming weather!