One of the most common times for homes to be broken into is when the owners are out of town. Leaving your home looking unoccupied can make it an easy target. If you're away on Christmas vacation, the good news is there's a number of things you can do to protect your home while you're away and make it look like you never left.
1. Don't Make A Public Announcement
Many people like to talk about about their upcoming trip on social media, or to friends while out in public. Avoid discussing the dates you will be gone when using social media websites and resist the urge to post pictures while you're away. Limit who you tell the details of your absence to so that it's just family or close friends who know. You can share all about your trip and your photos when you return!
2. Lights On, Lights Off
Lots of people believe it's a good idea to leave a few lights on in the home when they're away to make it look like someone is home. Unfortunately, this can indicate to burglars that you are away since the same lights are on all day and all night. A better idea is to purchase a timer that you can set so certain lights come on at a specific time each day. This will seem more natural, and it will also save you substantially on your electricity bill!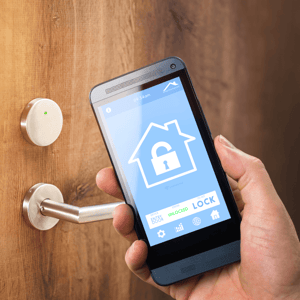 3. Use Smart Home Technology
Consider adding a few home safety features so you can keep an eye on your property while you're away. Many new smart technology elements are not only affordable but can be activated via smartphone no matter where you are!
4. Shovel the Snow
Keeping up with snow removal to make it look as if you're home during the week is very important. This is where getting to know your neighbours can really pay off as you might be able to ask them to clear your driveway and your sidewalk while you're gone. An alternative could be to hire a snow removal company to take care of your home - especially if you'll be gone for an extended period of time.
5. Hold Your Mail
Burglars may notice homes that have mail stacking up in the mailbox or on the porch, which signals the property has been unoccupied for several days. Contact the post office and request to have your mail held on the days that you won't be home. You can pick up the items after returning from vacation. You can also ask a neighbour to pick up your mail for you while you're away. Make sure to also put a hold on your newspaper delivery service and have any packages delivered to a friend's home.
6. Keep Your Exterior Well-Lit
Good exterior lighting, specifically around the perimeter of your home is important as it illuminates dark spaces where intruders can hide at night. This could be as simple as using low-voltage outdoor lighting to brighten up the yard or even solar path lights. These also make for great savings on your energy bill!
You might also want to consider installing a motion sensor light next to the front and back door of your home, which will immediately turn on anytime movement is detected. This also prevents intruders from hiding in dark areas and going unseen as they attempt a break-in. The light can startle the intruder and might make them assume that someone is home. A neighbour may also notice suspicious activity if the light turns on.
7. Let Fido Make An Appearance
You may not want to leave your animals behind while on vacation, but having pets at home can keep burglars away if they hear dogs barking. Hire a pet sitter to look after your animals. With the frequent visits, you will have someone checking on your home regularly, and burglars will notice a vehicle coming and going from your home.
While it's impossible to have total control of what happens to your home once you leave for the holidays, there are many things you can do to have peace of mind. By installing a few pieces of equipment and/or following a few best practices, you can set yourself up for a worry-free Christmas vacation.