With the fall season comes many things we are familiar with; the air is getting cool and crisp, nature's colours are changing to vibrant yellows, reds and golds, pumpkin spiced everything and, of course, Thanksgiving!
If you're planning on hosting Thanksgiving dinner this year, the change of season is also an opportunity to refresh your decor to reflect the fall colours around you. Check out the decor ideas below to help bring fall to your Thanksgiving table.
Gourd-geous
Whether it's going out to a pumpkin patch to pick your own, making a jack-o-lantern, or eating pumpkin pie, pumpkins are synonymous with this time of year. An added benefit is how functional these bright orange gourds are when enhancing your seasonal decor.
Whether you paint them in an elegant gold, silver or bronze, place a tea candle in the centre of a smaller pumpkin , or simply lay an assortment of smaller pumpkins on your table, you can have a beautifully decorated table that will set the mood for your Thanksgiving meal.
Shed Some Light
No holiday meal is complete without candlelight. It can help set the mood for the entire evening and provide a retreat in your own home for your family and friends.
There is a wide variety of things you can do with candles to enhance the decor of your dining room. Consider using scented candles that will help further set the atmosphere with the smells of autumn; cinnamon, a sweet breeze, or baked apple pie (if you don't already have one cooking in the oven).
You might also consider incorporating your candles into other aspects of your decor, such as using a small pumpkin or apple as a candleholder. If you have children and are worried of candles being knocked over, considering using some decorative aluminium lanterns instead.
Decorating Everyday Items
When determining the fall decor for your dining room table, you don't have to break the bank to do something special.
Mason jars are also a great symbol of the fall harvest, as they are so often used to store preserves made from the garden. Fill a few of these jars with coffee beans, place a tea candle on top and wrap a festive bow around it. You'll end up with seasonal candleholders that bring a special Thanksgiving feel to your table.
Harvest Produce
Since Thanksgiving is traditionally the celebration of the fall harvest, why not bring the harvest inside? To make a beautiful centrepiece, consider filling a vase with some short stalks of wheat, or a basket with some cobs of dried corn.
Adding these elements will give your table a more traditional, homestyle feeling that will set the tone for your meal together.
A Touch of Nature
Using fall foliage such as nuts, acorns and pine cones as part of a centrepiece, or to run down the centre of the table, will provide a hearty feel for a special meal.
Another great addition to the decor of your table could be some leafy fall garland. This is something that can be picked up at any crafting store or even a dollar store. Once you're done with it, pack it away and use it again next year.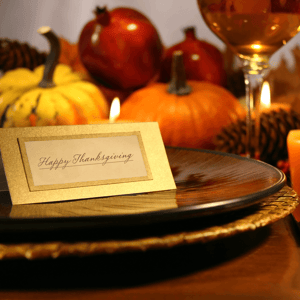 Personalize It
If you are looking to make Thanksgiving dinner that much more special for your guests, consider personalizing their table settings.
For example, instead of using a standard napkin holder, consider making your own with construction paper and ribbon and placing your guest's name on it. Or take a nature walk in the days before your holiday meal and find some large leaves that have fallen from the trees. Take them home and give them an opportunity to dry, and then paint them with gold spray paint. Once the paint has dried you can write your guest's name onto the leaf.
The best thing is you can make it what you want; something classy that looks elegant, or something fun to do with your kids.
Mix and Match
If you're having trouble deciding what to include on your Thanksgiving table, try doing a bit of everything; dried corn cobs, small pumpkins, some stalks of wheat or some acorns.
However, try not to get too out of hand as you'll need room on your table for the Thanksgiving feast too! To help control the amount of decor on your table, as well as to provide a focal point for the table, consider making a fall cornucopia. This horn-shaped basket will host these seasonal items and make a very festive addition to your table.
Favours
While technically not a decor item, favours are a little extra special gift for your guests to take home with them. Whether it's a little jar of locally made honey, a decorative looking pumpkin or something else meaningful, your guests will remember that meal for years to come.
Whether you prefer to be subtle with your seasonal decor, or like to make a big display, incorporating any or all of the ideas above will make this year's Thanksgiving meal one to remember.
What are some decor ideas that you've done in years past? Share them in the comments below!